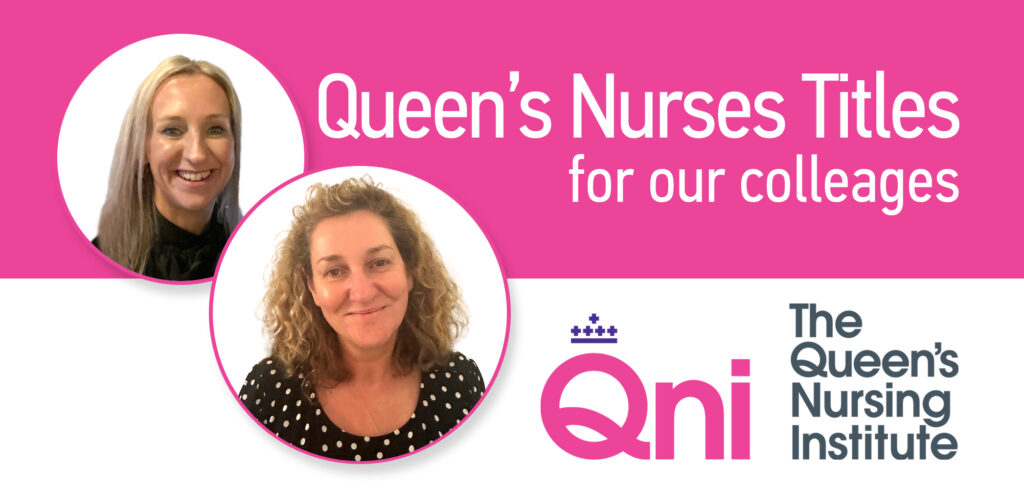 Mastercall are delighted to announce that 2 of our colleagues have recently been awarded their Queen's Nurses titles from the Queen's Nursing Institute.
Suzanne Curtis, Director of Nursing and Rachael Ingram, our Head of Clinical Operations in Stockport, have both been awarded the Queen's Nurses accolade.
This is a fantastic achievement and we congratulate them both on their prestigious Queen's titles.
They will both formally receive their titles at a presentation day at Friends House in London on 8th December.
We spoke to both Suzanne and Rachel to find out what it means to them.

" I've always been aware of the work that the QNI promotes and I believe my role as a Director of Nursing and Allied Health Professionals will be enhanced through their work. The award will give me the opportunity to have a proactive voice nationally to articulate the value of Nurses and AHP's across the community setting." Said Suzanne.
"The Queen's nurse title affords great opportunities to enable me to continue to support leadership, learning and best practice to ensure community nurses are visible and have a voice so we can influence policy making, service development and re-design." Said Rachel.
To read all about Suzanne and Rachels thoughts, click here to view our special edition newsletter.

About The Queen's Nursing Institute
The Queen's nursing institute is a registered charity dedicated to improving the nursing of people in the home and community.
They promote excellent nursing care for everyone, where and when they need it, provided by nurses and their teams with specific skills and knowledge.
To learn more about the Queen's Nursing Institute, click here.
Mastercall nurses receive prestigious Queen's Nurses titles